Nouvelle Presents Summer Bras for Use after Popular Breast Augmentation Surgery
April 25th, 2013 by sherry
Breast augmentation, according to the American Society of Plastic Surgeons (ASPS), consistently ranks as the nation's most popular cosmetic plastic surgery performed each year.
As a leading provider of post-surgical compression wear, Nouvelle, Inc. continues to offer one of the most comprehensive bra selections available to help patients
achieve optimal healing results following virtually any type of cosmetic or reconstructive procedure involving the breasts. "We take great care to use fabrics that feel softest next to healing skin," notes Dawn Cover, president of Nouvelle, Inc. "We find that especially during the summer months, comfort is a huge indicator of how fast patients heal following surgery."
The company has fine-tuned its bra line to offer flexible and versatile healing garments to help protect and stabilize breasts following surgical procedures such as breast reduction (reduction mammaplasty), breast lift (mastopexy), breast implants (augmentation mammaplasty), mastectomy, and breast reconstruction following mastectomy. "Our design team has carefully crafted each bra to be worn 24 hours a day, seven days a week to ensure surgical sites, stitches, drains, etc. are comfortably protected and secure," notes Cover.
Summer Bras (See Online Catalog for Complete Collection):
Bra Bands 
Breast lift and augmentation patients appreciate the versatility of Nouvelle's bra bands. These durable, flexible cotton bands provide superior comfort, support and stability following breast surgery. May be worn in addition to regular bras without wires.
Bras with Cups 
Nouvelle's exclusive cup bra collection merges soothing comfort with superior compression for patients recovering from breast surgery. These beautifully-styled post-surgical bras are recommended for enhanced healing results following most breast procedures, including breast implantation (augmentation mammaplasty), breast lift (mastopexy), and mastectomies. Handcrafted and wire-free, each design ensures proper compression and stabilization to help reduce swelling and shorten recovery time.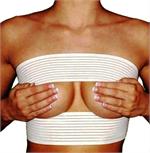 Bras with Ice Packs 
The Augmentation Bra with Ice Packs offers premium support and compression with uniquely-styled pockets for convenient cold pack application. Perfect for use following breast augmentation or reduction.
Bras with Sleeves 
Impeccably crafted, Nouvelle's bras with sleeves offer healing comfort at its very best. Ideal for velvety soft support and maximum compression during recovery from arm surgery (brachioplasty), breast augmentation, and liposuction. Compression bras with sleeves also help prevent extreme, hypertrophic scarring in the event of severe, skin damaging burns. Excellent relief for symptoms associated with lymphedema, such as fluid retention and tissue swelling.
Cotton Bras 
Molded cups and easily adjustable straps make Nouvelle's all-cotton bra a customer favorite for everyday as well as post-surgical use. This bra is beautifully designed with complete comfort and ease-of-use in mind. Hook-and-eye closures are conveniently placed in front and back of garment. Choose between a 1 and 2-inch band to ensure proper post-operative coverage.
Vests with Sleeves 
A popular choice for women recovering from multiple procedures involving the breasts and arms. The vest with sleeves features a convenient front zippered closure and 3/4 length sleeves. Ideal for women recovering from multiple procedures: arm surgery (brachioplasty), breast reduction (reduction mammaplasty), breast augmentation (augmentation mammaplasty), lumpectomy, and breast reconstruction following mastectomy.
About Nouvelle:
Under the leadership of Dawn Cover, Nouvelle Inc. recently celebrated its eighth anniversary manufacturing and distributing post-surgical compression wear, body shaping garments, and scar care products worldwide from its facility in Virginia Beach, Va.
Each garment is handcrafted with care, and customized for optimal healing of single or multiple cosmetic procedures. "Our alliance with the medical community is a strong one, involving consistent research, consultation, and input regarding the latest surgical advances. We are pleased to offer a product line that continuously evolves and meets the changing needs of patients and plastic surgeons," said Cover.
With a strict adherence to time-honored sewing traditions not typically available in today's mass-production-focused market, Nouvelle's creations are only available through private medical practices, select surgical supply vendors, and its Virginia Beach store.
For more information about international distribution and sales, please contact Cover via email or telephone.
Posted in Uncategorized