Nouvelle Seeks Distributors for High-End, American-Made Compression Wear; Products Include Garments Designed for Fast Healing Following Plastic Surgery
October 24th, 2013 by sherry
Nouvelle Compression Wear, an American-based manufacturer of products designed to speed healing following plastic surgery, is pleased to announce it is accepting new distributors and dealers for its exclusive line of compression garments.
"We are finding a new international niche for our products. Distributors are drawn to our company because of our uncompromising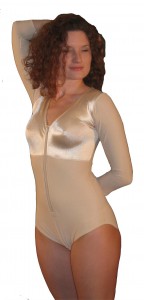 commitment to quality at every turn," explains Dawn Cover, president of Nouvelle Inc. "We have consulted with physicians, patients and experts in the field to fine-tune each garment for optimal healing following virtually any plastic surgery or cosmetic procedure."
Nouvelle's top sales internationally have included garments from its comprehensive assortment of bras, abdominal binders, arm sleeves, facial wraps and more. The line is designed to appeal to physicians and medical suppliers with a focus on product purity. "Each garment is guaranteed 100 percent latex and formaldehyde free," said Cover. "We only use fabrics sourced from the United States, and our manufacturing headquarters is strategically placed on the East Coast. This enables us to ship large quantities very quickly to points all over the world," she explains.
About Nouvelle Compression Wear:
Nouvelle Inc., has emerged in recent years as a leading designer and manufacturer of surgical garments worn following liposuction, breast augmentation, breast reduction, facelift, and more. The company offers a comprehensive selection of post-surgical bras and garments via distributors throughout the United States, Europe, India, England, and the Middle East. Its catalog covers the full spectrum of healing garments for virtually any type of plastic surgery, ensuring vendors have access to products aligned with latest advances in cosmetic procedures. Each garment is handcrafted with care, and customized for optimal healing of single or multiple surgeries. Special bulk discounts are offered depending on quantities ordered. For more information about international distribution and sales, please contact Dawn Cover via email or telephone.
Posted in Uncategorized